There are lots of misconceptions about the learning of a language. If we do not understand well what it takes to learn a new language, we will fail:
Do not think that taking it and leaving it that you will make progress. Learn once and for all.
Learning a second language is a long-distance race: it requires a big and continuous effort. When building a house, we cannot stop until we have set the roof. If we do, what we have built so far will crumble. The same thing happens with languages. If you give up studying before acquiring a minimum level, you will forget most of what you have learnt. This is why, those students who start studying, give it up, take it up again, give up again… they never make progress. It is precisely for this reason that bai&by only offers medium and long length courses.
Do not think that what is important is to pass the course. If the base fails, everything fails.
Many methods take the student randomly from content to content, but they do not strengthen what they have learnt. The problem, however, is that is not easy for most of us to systematize and structure what we learn. Therefore, the student cannot usually assimilate what has been presented to them and fails. In other words, even if they make progress in different courses, they fail because of their lack of base. bai&by's Virtual Teacher, though, works on contents until they are completely automatized and guarantees a good base.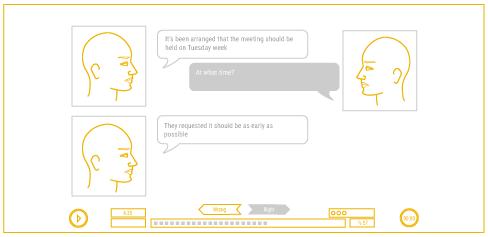 Don't think that repeating is not important. It is the key.
Repetition is part of the basis of learning. bai&by works on the sentences the student must acquire through micro situations. As the very name says, micro situations are small conversations (2, 3 or 4 interactions) used in real situations. These situations offer a context and help fix expressions in a better way and create mental images. A lot of information can be stored at the same time through images and visualize what is said. In addition to help create links between different ideas and concepts, it increases the capacity for abstraction. Studying this way, the neurons create solid nodules and, thanks to this, more information can be retained in less time. As a result, in the moment of speaking, this information will be recovered more easily and faster and speaking fluently will be possible.